Gentle Giant Info and News
Your source for the REAL truth about Gentle Giants Rescue and Adoptions, Inc.
Working with Other Rescues:
July 10, 2006



Southern States Rescuers:

I have seen so many messages lately of Pyrs in need. It seems the numbers of Pyrs in need in the Southern States have grown tremendously and our local Great Pyr rescuers are just overwhelmed with the numbers.

To help this issue, I have invited Tracy Ward of Gentle Giants Rescue, Inc. to be a member of this list.

Tracy and her husband, Burt, run Gentle Giants Rescue and Adoptions, Inc. (

a recognized 501(c)(3) organization based in Southern California

) and they help the gentle giant breeds across the U.S. They have the resources to rescue, pull, transport, foster, train and adopt these dogs across the nation.

They have been very instrumental in helping so many Great Pyrenees dogs in need and I wanted to add Tracy as a resource to this list.

If Tracy is able to respond on a message in need that you have posted to this list, please work with her and support her organization in the good work that they do on behalf of Pyrs across the nation.

By all means, if a local group can help a Pyr in need, then use the local resources --- BUT, BUT, BUT, if Tracy can rescue a dog that will needlessly be put down, please work with her, since I fully support what she can do for our wonderful breed and for all the gentle giants.

Please know that I just don't want her resources to be stretched if local assistance can help a dog and they can get a dog to safety.

You can visit Gentle Giants Rescue and Adoptions, Inc. website at www.gentlegiantsrescue.com and you can reach Tracy directly at rescue@gentlegiantsrescue.com.

If the name Burt Ward sounds familiar, then you are of my generation who enjoyed Burt's work in the 1960's TV series, "Batman." Burt and Tracy have dedicated their lives to saving the gentle giants of the world. Enjoy their website and their telecasts showing what they are doing on behalf of the giant breeds.

Laila Folk
Founder, Texas Great Pyrenees Rescue, Inc.
| | | |
| --- | --- | --- |
| | | (909) 887-8201 |
The only AKC-recognized Southern California Great Pyrenees Rescue Group.

To adopt one of our rescues, you must first fill out an application.
We will call you to arrange a visit after we receive your application. Thank you.
Check out out brand-new edition of the GPASC newsletter, Pyrspectives, for June 2004!



Lady

18 month old Female

Lady suffers from epilepsy. She was found almost dead behind an apartment building in Las Vegas. Her rescuer nursed her back to health and Lady has gained 30 pounds under her care. She has wonderful house manners, but does like to chase the kitties if they run. Lady is active, likes to run and play then curl up on the couch for a nap. She gets along well with other dogs. Hopefully, spaying will have a positive effect on her hormones and Lady will be able to lead a normal life without her twice daily meds.






To see other adoptable Great Pyrenees, visit

www.gentlegiantsrescue.com

.



Located in Riverside, CA, they rescue and adopt giant breed "Gentle Giant" dogs, as well as smaller "Little Giant" breeds, and find them qualified, safe, loving homes as inside members of the family. Their dogs include: Great Danes, Borzoi, English Mastiffs, Greyhounds, Irish Wolfhounds, Neopolitan Mastiffs, Bullmastiffs, American Mastiffs, Adronicus Mastiffs, South African Boerboel Mastiffs, Dogue de Bordeaux French Mastiffs, Saint Bernards, Newfoundlands, Leonbergers, Whippets, Silken Windhounds, Italian Greyhounds, Peruvian Inca Orchid, Xoloitzcuintle, Chinese Crested, and of course Great Pyrenees .

Their website is colorful and interesting, and contains an up-to-date list of available dogs. If you are looking for a Great Pyrenees in Southern California, check them out.


Est. 2001

LAST UPDATED: July 10, 2004


If you are interested in adopting a Saint
Bernard, please fill out an application!

Saint Bernards are available!!
Thank you for wanting to adopt a Saint!








[Home] [About Us] [Application] [Available] [Success] [Ways To Help] [Links] [Contact Us]



| | | | | | |
| --- | --- | --- | --- | --- | --- |
| Picture | Name | Age | Sex | Coat | Appointments Pending |
| | Crista | 7-8 Years | Female | Smooth | |
| | Princess | 4-5 Years | Female | Rough | |
| | | | | | |
| | Winston | 3 Years | Male | Smooth | |
| | Elijah | 4 Years | Male | Rough | |
We are working with Tracy Ward of Gentle Giants Rescue in Southern California. She is taking all of the Saint Bernards that we do not have room for at this time. If you do not find what you are looking for here . . . please visit www.gentlegiantsrescue.com for more Saint Bernards!
NOTE: Recent dogs may not be shown on the site above, that does not mean that she does not have any, please call Gentle Giants Rescue for an updated listing. It would help up if you could let them know that we referred you, we sure do appreciate their help and we want them to know that we are doing our best to refer potential adopters to them.




WOW Cheryl!

I am pooped just reading this.

Send out a plea for help on the Mastiff.

Call and write to Tracy Ward at Gentle Giants.

Email to: tracy@gentlegiantsrescue.com

Often, she can arrange transportation.

If you can work with her, maybe this big guy can be saved.

She has been very helpful to me in the past, and I have heard nothing but great things about her and her rescue.

I have cc'd her as well, as I hate to mention people behind their backs.

Please let me know what happens.

I am disgusted that the breed rescue there won't assist you.

Tracy takes in a lot of large breeds, not just Danes.

That is one of the reasons I have so much respect for her.

Example: I emailed her a month or so ago about a Dane in one of our local shelters . . .

Within 48 hours, the dog was on her way to their ranch.

She sent me a very nice email thanking me for the scouting on the dog.

PLEASE try her.

Joy


Rescue Me Incorporated
All Breed Dog Rescue
Joy and Craig Nadel
www.rescuemeinc.org
email: rescuemeinc@aol.com
818-999-2400
"Hugs, Slurps and Slobbers"
Thank you for choosing to adopt a special orphan and support rescue!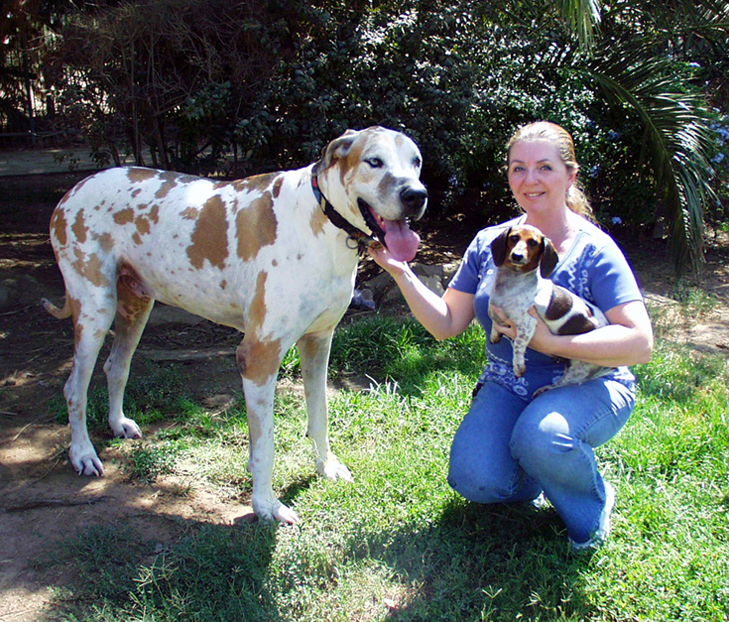 "Apollo" meets "Fancy Nancy" (Doxie) and
Brenda Bryant from Riverside Dachshund Rescue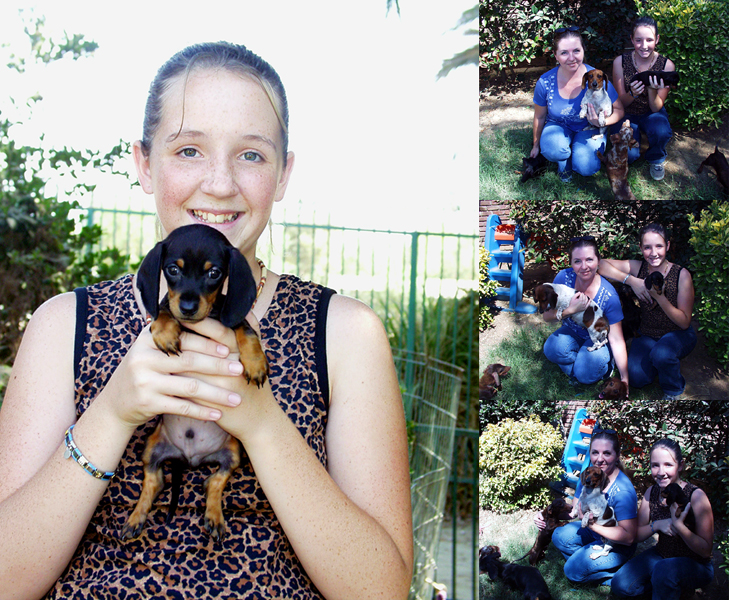 Brenda Bryant and her daughter pose with some of
the Doxies that we transported for them from Texas

Riverside Dachshund Rescue
Hi Tracy,

Thanks for helping to transport around 30 Doxies to safety.

Late in July 2004, a Dachshund Rescuer called me and informed me that there were many Doxies in Texas that needed help.

I asked if a rescue mission there was possible.

Due to unforseen circumstances of the Doxie rescuer, the mission had not been able to happen and time was growing short.

I then called you and told you about the situation, and you generously offered to coordinate the rescue, even though only one dog of your breed would be coming to you.

We are so happy to have your help in getting these Doxies out of a bad situation, so they can now find wonderful loving homes.

I know that you worked extra hard to get the little 7 week old Doxie puppy whose Hernia was needing repair.

And, we have already found a great home for "Little Teddy," the long haired Dapple puppy boy Doxie that came in with a Dane and that you transported to us earlier this year.

We appreciate your help and your efforts to inform "Teddy's" owner that you could take him for our rescue, since they were not aware of Dachshund Rescue at the time they originally called you to give up their Dane.

And, know that we will find a special home for your favorite "Fancy Nancy " a little "Fawnequin" - really "Sable Piebald" Doxy girl who you and your family fostered for a week, and who I am sure you will always love and adore, and who looks like your big Fawnequin Great Dane "Apollo."

I am looking forward to seeing the two of them ("Nancy" the adorable little fat Doxy, and "Apollo" the huge Dane who look so much alike!) together in the cute photos that we took while my daughter and I were at your home.

It has been a pleasure working in with you in the past and sharing a common goal.

I'm sure we will continue to work together to save lives in the future, and I will always keep my eyes open for your breeds in the shelters, because I know you take every one of the breeds that you rescue.

Thanks so much for all your great efforts and care and concern for these wonderful animals.

We appreciate you very much.

Sincerely,

Brenda Bryant


Riverside Dachshund Rescue


P.S. Below are some of the wonderful Doxies that we saved during this trip that are still in need of qualified loving homes:
Riverside Dachshund Rescue
ADOPTION PENDING!
Listing Date: 8/27/04
Animal's name: "Nancy"
Age: 2
Weight: 15
Spayed or neutered?: yes
Coat: Smooth
Color: sable piebald
Animal located: Moreno Valley, Ca.
Adoption Fee: $300.00
Contact: Brenda, (951) 413-6628




"Nancy" is also from the Texas Puppy Mill Rescue group. She has had at leat one C-section and was retired. She is a very lucky dog as she was not in the Mill long enough to suffer the damage so many others have. She is a happy and friendly dog and gets along with children over 8, other dogs and is an all around great dog. She is a chubby mini who was favored there for some reason and fed very well. She is lively and active and also wants to be held and loved. She is shy at first meeting as all these dogs are but once she knows you she will be by your side and a good companion. "Nancy" needs another Doxie as a playmate as she depends on them for company. If you have another youngish Doxie for her to play with and you have a fenced yard, lots of love and understanding please call to make an appt. to meet "Nancy." she will soon be spayed and have a full dental and all shots and be ready for her new home. The proceeds of her adoption will go toward her Vet care and also help our remaining Mill. rescues.




Listing Date: 9/18/04
Animal's name: "Lilly"
Age: 7
Weight: 9
Spayed or neutered?: yes
Coat: Longhair
Color: Double Dapple
Animal located: Moreno Valley, Ca.
Adoption Fee: $175.00
Contact: Brenda, (951) 413-6628



"Lilly" has come to us with the others from a Texas Puppy Mill. She is like an Angel on earth and has graced us beautifully with her presence. She is a kind soul who gives and receives love as though she has the understanding of the ages. We have named her "Lilly Angel of Love." She is at times a little shy until she gets to know you and then she is very happy to be held and loved. Lilly was bred for her most beautiful coat and then bred again and again to produce equally beautiful puppies that brought the greedy Puppy Miller high prices. The true saddness of this greed... "Lilly" has paid for her beautiful coat with a very high price. She is almost blind. This is due to the "lethal white gene" that so often happens when double dapples are bred. She can see only shadows and has to rely on her other senses to find her way around and to know who is in her presence. She does very well. Once she knows her boundaries she does not appear to be vision impaired at all. "Lilly" knows how to use a doggy door now and as long as you show her where to get out or keep her on a potty schedule "Lilly" does just fine. She gets a kick out of watching TV with us as she can see the light flickering and is courious about it. She has to be kept safe and be in the proper home for a dog with her slight disability. "Lilly" will warm your heart and make you very glad you gave her a chance. If you are looking for a companion and wish to meet "Lilly," please contact her foster Mom listed. Lilly will be in a new foster home in the Los Angeles area on the 26th. of September. Her new foster Mom will then meet her prespective new parent(s) and make the final decision. "Lilly" has become very fond of "Dyna" and plays very well with her. She could easily bond with another friendly Doxie. No children under 8 or large dogs for "Lilly's" safety please. Approved applications only.




Listing Date: 9/18/04
Animal's name: "Diamond"
Age: 10
Weight: 9
Coat: Longhair
Color: black and tan dapple
Animal located: Moreno Valley, Ca.
Adoption Fee: $75.00
Contact: Brenda, (951) 413-6628



"Diamond" is a very special boy. He is a 10 year old survivor of the cruelty of a Texas Puppy Mill. He has rescued on 8-7-04 and is now residing in his Moreno Valley foster home where he is a happy tail wagger. Although "Diamond" appears happy and well adjusted he was not as fortunate as some of the other survivors. Because of severe malnourishment and the rotten condition of his teeth, "Diamond" now has conjestive Heart Failure. He cannot be neutered as he may not survive the anesthesia. We have attempted an awake cleaning of his teeth but this is a slow process as it is very stressful for him. "Diamond" is on two medications and is doing well considering. He is always happy and will give you kisses and lots of love. "Diamond" gets along with all our Doxies here, shows no interest in cats and is fine with all people including little people. For "Diamond's" sake we would ask there be no children under 12 in his permanent home. Our Vet feel his condition is stable and "Diamond," if cared for properly, could have many wonderful years left. Despite "Diamond's" condition he does not lay around all day or need a totally quiet home to reside in. He loves the many people he meets here and is quite the socialite. He is active and loves to run around and play. "Diamond" will bring much joy to a loving soul if only he is given a chance. "Diamond" can be potty trained with the proper use of a belly band and will sleep fine in a crate at night. He will need a patient person who is comitted and willing to work with "Diamond." We here at his Riverside Rescue have put about $200.00 into "Diamond's" care and medication and would only ask a donation or that you help with a three month supply of his medication should you choose to adopt him. This is for his benefit only and will ensure he is a valued member of his new family. "Diamond" is truly a gem and must be seen to be appreciated. Approved application a must.





Listing Date: 9/18/04
Animal's name: "Dyna"
Age: 9
Weight: 10
Spayed or neutered?: yes
Coat: Longhair
Color: red
Animal located: Moreno Valley, Ca.
Adoption Fee: $175.00
Contact: Brenda, (951) 413-6628



"Dyna" is a special little Angel. She was rescued from a Texas Puppy Mill on 8-7-04. She was the victim of immense cruelty. She was a prisoner of Greed . She is now safe and is recovering in her foster home in Moreno Valley, Ca. She is now stronger, gained weight and has been groomed and is receiving love therapy and learning that all people are not cruel. She is making remarkable progress. She will need a good retirement home where she will not ever feel threatened again. We would request an all adult home as "Dyna" may be uncomfortable with the antics of children. "Dyna" will undergo a hernia/spay surgery, have all her teeth cleaned and all shots within the next couple weeks. She will need to stay close to her foster Mom for a few days to a week post surgery. After she has recovered she will be ready for her forever home. "Dyna" has gone through so much we want only the best for her new life. Please consider "Dyna" if you are looking for a new companion. She is fine with non aggressive Doxies but we are unsure about cats. If you would like to meet "Dyna" and are in Southern California please call her foster Mom. Approved applications only. Dachshund Experience preferred.




Listing Date: 9/18/04
Animal's name: "Pebbles"
Age: 1½
Weight: 7
Spayed or neutered?: yes
Coat: Smooth
Color: Chocolate and Tan dapple
Animal located: Moreno Valley, Ca.
Adoption Fee: $300.00
Contact: Brenda, (951) 413-6628



"Pebbles" is also from the Texas Puppy Mill . She is a very shy girl and very afraid of children. She will fear bite if she is scared. We at Riverside Doxie Rescue are activly working on her rehabilitation. She is completely attached to her foster Mom and is otherwise only receptive to the teenage girls in foster and is afraid of the foster Daddy and 8 yr. daughter. "Pebbles" loves to play with the other Doxies here and is very healthy. She is very tiny and has to be handled with care and caution. She is very skiddish and will leap out of your arms and get hurt if you are not very careful. "Pebbles" was inbred and in fact the index card that she came with was simply labled "accidental breeding" This is all she had ever amounted to. Until now. She is very precious to her foster Mommy and will only go to a lady of choice who "Pebbles" is comfortable with. She had little or no human interaction in the Puppy Mill and does not know how to react to humans other than with fear and contempt. To make matters worse, "Pebbles" was bred in that place and was too little to give birth and had to have a C-Section. This was in May 2004 and she still had the same stitches intact in August 2004 when we brought her home. Painfully, we removed the stitches that her skin had grown around. "Pebbles" has a pronounced underbite and cannot close her teeth all the way. She has to be carefully fed as she could choke on some food itms she has trouble chewing. "Pebbles" has been spayed, had her double row of teeth pulled, all teeth cleaned and is up to date on all shots. We are taking applications and will let Pebbles meet approved applicants to see how ready she is for a new home. We feel Pebbles will fully rehabilite but may never like children. We are asking for an all adult home or with responsible teens only. "Pebbles" is about 85% potty trained to a doggy door. She is fine in a crate or in the big bed. She is a very special little girl as are all her friends here.




Listing Date: 9/16/04
Animal's name: "Pollyanna"
Age: 3
Weight: 7.1
Spayed or neutered?: yes
Coat: Smooth
Color: Black & Tan
Animal located: Moreno Valley, Ca.
Adoption Fee: $175.00
Contact: Brenda, (951) 413-6628


"Pollyanna" was rescued from a Texas Puppy Mill on 8-7-04. She came to us skinny, filthy, scared and shy of everyone. Terrified of what we may do to her based on the previous cruelties inflicted on her in the Puppy Mill prison where she came from. 5 weeks of love therapy later she is now a very happy and sweet dog and she loves people and animals but is a little shy of some men at first meeting. "Polly" was the victim of an attack in the Mill prison she came from and had her back broken. She has had two back surgeries but can now walk with a wobbly gate. She seems to get stronger ever day. She does not need a cart and gets around just fine. She needs no more surgeries nor does she 'cost' any more to keep than any other Doxie. She is a wonderful little dog. She just smiles and wags her little tail at the site of a friendly person. "Polly" has control of her bowel and bladder and waits all night in her crate to go out in the morning to go potty in the yard where she should. She will need continued guidance but is very eager to please. "Polly" needs a special home where someone will understand her special needs and love her despite her slight disability. She must not be left on a bed or couch where she would fall off and get hurt. If she has a little bed on the floor or a wide ramp up to the couch she will be very happy. She sleep in a crate at night for her own safety. She cannot jump up on anything nor climb stairs. (this can be a good thing) If you decide to fall in love with little "Polly" beware she will shower you with kisses every day! "Polly" would be fine with another friendly small dog or cat but no big dogs or children under 8 please simply for her safety. "Polly" is currently recovering from a hernia/spay surgery and has had all her teeth cleaned and old puppy teeth removed. She is also up to date on all required shots. If you are interested in meeting "Polly" please call her foster Mom listed.




Hi Tracy,

It's Lisa VanBuhler (previously from Great Dane Rescue of Northern California).

I LOVE your new website. Being on bedrest with my pregnancy, I'm on the net all the time and I just stumbled on it today.

I love ALL the pictures.

I think they make a great difference to websites!

Good job!

Lisa

Tracy and Burt:

You don't know me.

My name is Shelly.

I foster and do transport for Great Dane Rescue, Inc. based in Michigan, though I live in Indiana.

I have a 7 year old male Dane of my own.

His name is "Einstein" and he is the love of my life.

I have had him since he was 6 weeks old.

He came from a back yard breeder and was given to me as a gift.

I have learned a lot since then, not just about Danes, but about dogs in general.

I just want to thank you for all you do!

You are an inspiration to all of us in rescue!

I know that I will probably never be able to help these lovely animals on the same scale you do, but I do what little I can.

It is never enough, but knowing I have helped even one Dane find a loving home is all the reward I need to keep going.

I just wanted to let you know that you are very much appreciated and admired.

Shelly Dages


URGENT
North Central's animals need your help!
The shelter is REALLY full right now (and you know what that means...).
PLEASE come in to meet one of the shelter's many gorgeous, adoptable animals!
SAVE A LIFE - ADOPT A SHELTER ANIMAL!
Dalmatian - female - 2 years
#A659658
available NOW
Gorgeous Dalmatian mama with 8 newborn puppies. Must be adopted as an intact family. Call shelter for details.



Hi y'all,

I thought you'd like to know that we rescued this pretty girl and her babies yesterday.

We'd like to thank Tracy Ward, of Gentle Giants Rescue and Adoptions, for fostering our little family!

Sherri, of Sparky and the Gang, will be placing the babies, and Save the Dalmatians will be placing their adorable mom, Ruby, once everyone's ready to be adopted!

Doesn't she already look a whole lot happier!?

Doncha just love a happy ending?!

Gail McKenzie
Dalmatian Rescue of West Los Angeles



Hi Tracy,

My name is Sarah Boes and I reside in Toronto, Ontario Canada.

I think what you and your husband are doing with Gentle Giants Rescue and Adoptions is absolutely incredible, and it warms my heart to know these big babies have a sanctuary.

You have inspired me and my husband to do the same as you and set up a sanctuary in eastern Canada in the next five years.

Thank you for the inspiration and for looking after these big angels!

Sarah Boes



Hi Tracy,

I wanted to send you some pics of my darling girl Wenzi!!!!

Wenzi asked me to write a little note from her.

Best Wishes,

Dorothy James
Desert Labrador Retriever Rescue



Hi Tracy, I am sharing my new family with you.

As you remember, I am an 8 year old Great Dane who went to Arizona.

My mom calls me "Wenzi" . . . that is African for 'Friend.'

My new brothers are chocolate Labs. I am bigger than they are, but we get along great.
I sent you a picture to show what shrimps they are next to me!! And another to show how I can kiss them when they aren't looking- and even when they are!

I am happy and well, and look forward to getting another brother or sister from you!

I want the next one to be my size!!!

Love,

"Wenzi" James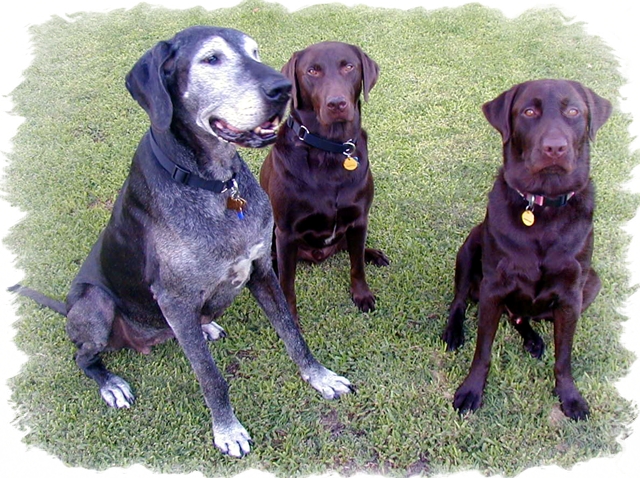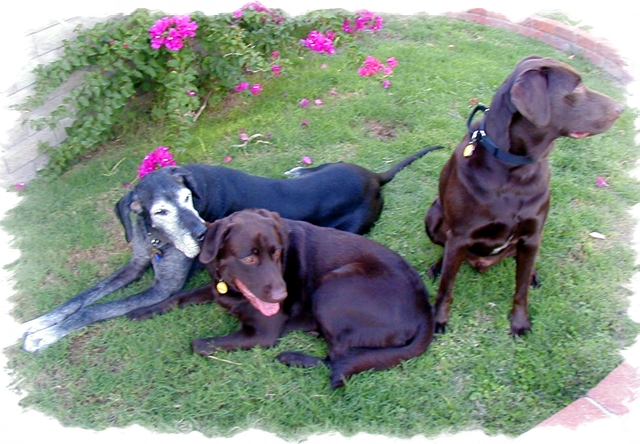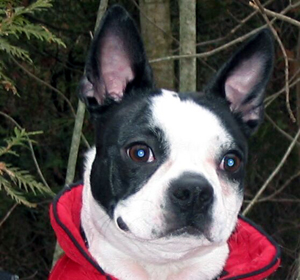 Hi Tracy and Burt,

I am involved in dog rescue in Toronto, Canada.

Right now, I volunteer at two local humane societies, however, my goal is to have an shelter of my own.

Above is a photo of my rescued dog, she originally came from a puppy mill (argggh!), then I adopted from a local shelter.

The reason for my note:

I watch "Pet Story" every day faithfully, and I was so impressed by the segment on your rescue which aired on Monday Jan 28th.

Not only are you 'still crusading,' as your daughter said, you are using your celebrity to help dogs in need.

I am sure that segment will reach many, many people and hopefully have them think of adopting a dog in need, rather than purchasing one from a pet store or breeder.

The message was both positive and informative.

Thank you and wish you continued success in your mission to save Danes.

Regards,

Tina Lovelace
Etobicoke Humane Society volunteer - Toronto
Mission Pawsible - making a difference four paws at a time.
| | | | | |
| --- | --- | --- | --- | --- |
| Working with Other Rescues: | | | | |
---

© Copyright 2007-2008 Gentle Giant Info and News, Inc. All Rights Reserved.